The Winding Path Initiative is delighted to be presenting Parlor LARP games at HLGCon, October 12th-14th, at the Showboat Atlantic City. Admission to the B&B event is included in the cost of regular admission to the convention.
Blood & Betrayal Vampire: The Masquerade Friday & Saturday Night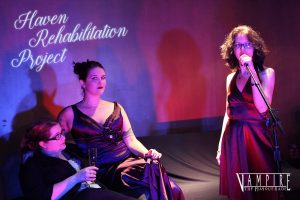 We are thrilled to be showcasing Vampire: The Masquerade as part of By Night Studios' Blood & Betrayal Chronicle. We will be running Masquerade Friday and Saturday night, in the Harlem Ballroom, as a combined venue — you're welcome to play Camarilla, Sabbat, Anarch, or Independent Alliance characters, who have all been invited together for what should be an extremely eventful weekend. The Harlem Ballroom is a large music space, ready for intrigue — but with all the enemies around you, be careful who you wander with. Our Friday night Masquerade game will be Camarilla focused, with primary storytelling from Sarah Farley and DJ Hicks. They can be contacted at camarilla@phillylarp.com Our Saturday night Masquerade game will be Sabbat focused, with primary storytelling from Joe Perry and Jacob Shpiece. They can be contacted at st@phillysabbat.com You do not need to be a current WPI or B&B player to play; we're excited to share our world with you. Whether you're planning to bring in a new character, or looking to convert an existing one for the Blood & Betrayal Chronicle, we'll have staff on hand to help you get into and involved in our games.
Premise for Vampire: The Masquerade LARP at HLG Con
Rejoice, for you are found. Rejoice, for you are loved. 
Since time out of mind, our civilization has been founded upon the essential relationship between Childe and Sire. At times, that relationship has been a mutually beneficial one, with the Childe learning from their progenitor and the Sire benefiting from the Childe's relative vigor and ability to navigate the mortal world. At other times, that relationship has soured, with the Childe rebelling against their creator and the Sire attempting to exert gross control over what they view as their property. Regardless, the question of parentage has been closely tied with the development of one's place in whichever society they choose.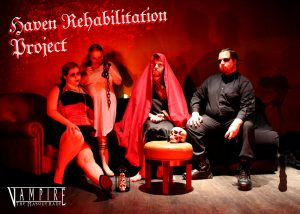 Sadly, however, there are the rare exceptions. Some Childer, shortly after creation, find themselves abandoned by the one who made them. We have all heard of the Sabbat shovelheads, embraced into a life of violence and often forgotten after their task is done, or of the unacknowledged by-blows of Camarilla Elders, defying the social order, but unwilling to accept the consequences of acknowledging their Progeny. These youths are left ignorant, directionless, helpless. In such cases, the only mercy left has often been that their lives are very short, and so their suffering goes unprolonged.
Now, however, there is hope for a better future. At Haven, these Childer find peace, sustenance, and knowledge. Here, they have the opportunity to learn the lessons their Sire should have provided. Here, they can become the vampires they were meant to be.
This project has been a quiet work-in-progress for many years, with Childer across many Clans and origins, preparing them for their introduction to society. We, the Keepers, have finally come to a consensus that it is time for our experiment to become publicly known. Therefore, it is with great pleasure that we announce the inaugural class of the Haven Re-education Project.
To celebrate this graduation, we have invited all the Sects of the world to send members in order to represent their society and recruit from this new batch of Neonates. Any Kindred is welcome at the event, so long as all those in attendance understand one simple fact.
We expect you all to be on your very best behavior.
Out-of-Character
This Blood and Betrayal Chronicle LARP event welcomes all participants, eighteen and older only, looking to dive headfirst into the World of Darkness. Costuming is greatly encouraged, but it need not be elaborate and is optional. You may create characters from any Sect, Clan, or background for this event. Staff will be on hand to assist beginners with developing their characters and answering questions.
To participate, purchase a regular admission ticket for HLG Con.
Parlor LARP Playtests at HLGCon
One of the main goals of the Winding Path Initiative is to promote the Parlor LARP community and support our growing hobby. We're excited to share our new upcoming Parlor LARPs with you at HLGCon. WPI will be running a demo of our upcoming Parlor LARP, Huldufólk, on Saturday afternoon. If you're interested in learning more, keep an eye out on our website and Facebook page, or sign up for our announcement mailing list.