Early Bird Tickets End May 31st Buy Now!
In 2016, three friends attended White Wolf's Grand Masquerade in New Orleans, Louisiana. At some point during the event, the trio realized they had a choice. They could either continue relying on others to experience their passions, or they could craft their own experiences, welcoming others into the fold as they guide them through their own unique storytelling visions. On that day, the seeds of Reverie Studios were planted, and two years later they have blossomed into one of the premiere blockbuster Live Action Roleplaying studios in Boston, Massachusetts. You too can experience their unique brand of creativity when they bring it to you at the High Level Games Convention this October.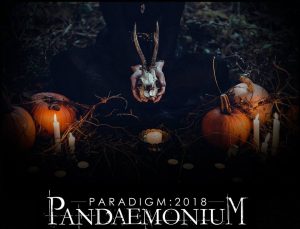 Seance Sessions is a LARP designed for 15 participants to be completed in about seven to eight hours, including workshops. Each player will take on the role of a guest invited to a seance run by renowned psychic Walter Ames, purported to be the genuine article in a field full of frauds. As in many Nordic LARPs, characters will be provided. However, the story team at Reverie will customize characters according to the tastes of each player and the experience they seek from the game.
Reverie's other major project at the moment is A CoG in the Machine, a LARP for 20 participants about the aftermath of nuclear holocaust and what happens when the systems that support American society collapse in the blast. As devastation sweeps across the country, players are drafted into the Continuance of Government scenario, who must attempt to maintain control in the face of total anarchy by issuing orders through remote connection. Their mission is to make the important decisions that will either restore the country to its previous glory or consign it to the dust of history forever. A CoG in the Machine features the same customizable characters boasted by Seance Sessions. Characters go out to their players with little more than a name, a few descriptive terms and a small summary of who the character is. If said player deems the character as acceptable, the guys at Reverie will continue to flesh out or tweak them until they're a living, breathing person that matches the player's tastes, with a full background and and a list of relationships the get players immediately anchored in the experience. Interested? Reverie will be running a session of A CoG in the Machine at HLG Con.  

Of course, CoG isn't the only LARP event on offer from Reverie at the convention. They'll also be one of seven LARP studios contributing to the epic Halloween-themed Pandaemonium. With Reverie's experience in delivering top quality interactive horror, dark themes, and just telling a good ghost story, Pandaemonium is going to be an event to remember.