We'd like to announce that Misha Bushyager of New Agenda Publishing will join us at HLG Con to run games of their forthcoming RPG, Orun. Here is the highlight of the game they'll be running!
We're New Agenda Publishing, a consortium made up of Misha Bushyager, Jerry D. Grayson, and Eloy Lasanta dedicated to promoting diversity in the RPG community through our hiring and project choices. We want to amplify underrepresented voices and help them tell new stories from their perspective. Details on their game below! 
In Orun, you play an envoy of the ascendant Oluru, called a Djali or Luminary in a world after the Orisha came and showed the inhabitants the way to transcendance and that secret was lost to a battle with the Sopona Virus.  Not quite ascendant themselves, the Luminaries travel to different worlds as advisors, troubleshooters, and peacekeepers in the post-apotheosis galaxy. They explore lost star systems and ultimately help enlighten worlds and their people, waking the galaxy from its disordered indolence.
New Agenda is currently seeking writers to help them develop the game world as well, so you should check out their call for talent!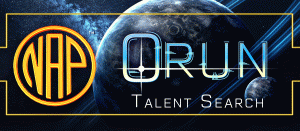 You should check out the Quick-start for Orun here, and then purchase your ticket for the convention here!