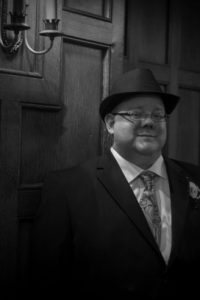 Jason Andrew is a writer, editor, and game designer. He lives in Seattle, Washington with his two partners Lisa and Andrea and his pug, Otter.
By day, he works as a mild-mannered technical writer. By night, he writes stories of the fantastic and occasionally fights crime. As a child, Jason spent his Saturdays watching the Creature Feature classics and furiously scribbling down stories. His first short story, written at age six, titled 'The Wolfman Eats Perry Mason' was severely rejected. It also caused his Grandmother to watch him very closely for a few years.
He writes in several genres and styles, including contemporary fiction, historical fiction, young adult, science fiction, fantasy and horror. In 2011, his story "Moonlight in Scarlet" received an honorable mention in Ellen Datlow's List for Best Horror of the Year.
Jason is a rabid gamer, having written for several role-playing games, such as Call of Cthulhu and Shadowrun. He serves as the Line Developer for Mind's Eye Theatre for By Night Studios, producing a number of MET products including MET: Vampire The Masquerade, MET: Werewolf The Apocalypse, and the upcoming MET: Changeling: the Dreaming.
Jason Andrew can be contacted at jasonbandrew@gmail.com or Jason Andrew on Facebook. You can see his author's page on amazon here.