Hello, I'm Josh Heath, Chief Operations Officer and Event Organizer for High Level Games and HLG Con. I've been a gamer for over twenty years and I love the atmosphere of a great convention. I want to share this experience with my friends, family, and community. My goal is to ensure that you feel safe, comfortable, and welcome at HLG Con. To do that well, we wanted to create an easy to read and understand set of Community Standards based on our larger document. All of our standards on based on these ideals, "Create a sense of community and create an atmosphere of joy."
Before we go further, I want to shout-out Big Bad Con. We borrowed their formatting and concepts from their community standards. They're an amazing event. If you can't attend HLG Con, we recommend checking out what they are putting on.
HLG Con Community Standards (Quick Version)
Have the best time you can possibly have at HLG Con. That fun cannot come at the expense of another person's safety, happiness, comfort, or sense of self. If you do so, you must stop.
We have a ZERO TOLERANCE policy regarding harassment of any kind.  If you witness or are targeted by harassment, please fill out this form. Form submissions will go to myself and the head of community and safety and will be dealt with. If needed, convention staff are also available to take reports and will respond in accordance with our principles.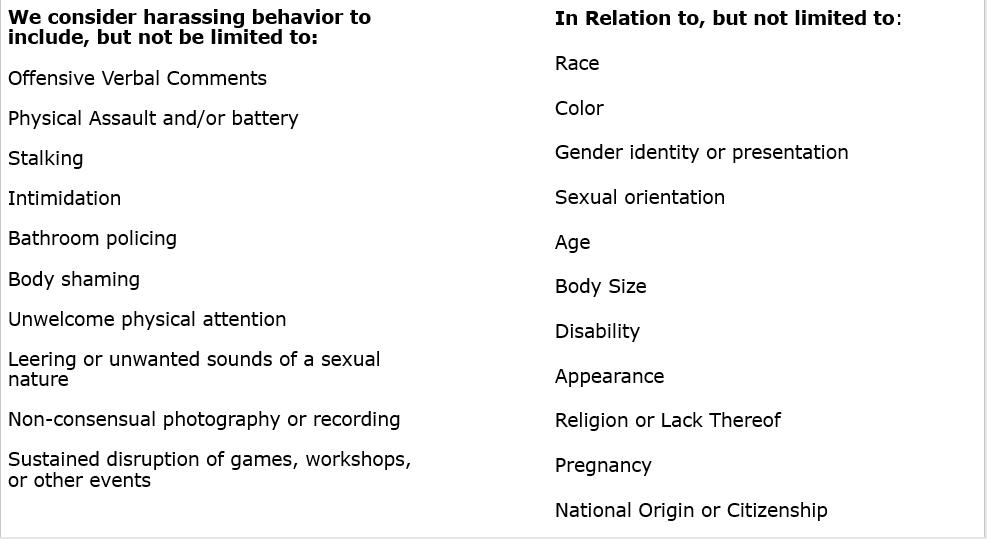 To report any incident, fill out the form here or call/text 603-397-7089
Or speak to any staff member.  Please include as much details as you are comfortable providing so the situation can be addressed as quickly and thoughtfully as possible. If you are still in the area of the incident, a staff member will meet you in that space if it is safe to do so.
Anyone can report harassment. Anyone.  If someone's behavior has made you uncomfortable, of if you've seen something   that clearly makes someone else uncomfortable, please immediately reach out to staff or a volunteer. You may also come to Registration.
Failure to follow community standards may result in:
A verbal warning and discussion with HLG Con staff.
Turning the individual over to hotel security.
Revocation of Badge and ejection from the event. No Refunds will be issued.
Contacting local Law Enforcement
This policy applies to all attendees at the convention. Including Exhibitors, attendees, GMs, Guests, Staff, and volunteers, who are all subject to the anti-harassment policy and the community standards and will be held to those same standards and disciplinary actions.
Please know, that if you are the target of any form of harassment, we will work with you to provide support. We will contact law enforcement, provide an escort, offer a safe place or otherwise assist those experiencing harassment to make sure they feel safe for the rest of HLG Con. If you are in immediate physical danger, contact local law enforcement first!